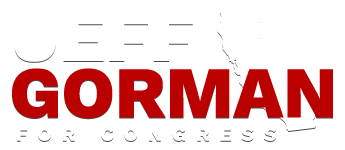 Team Gorman is pleased to announce that Jeff has received the full endorsement of Civil Rights Leader and Blacks for Trump leader-
Niger Innis.
Politics and the Republican Party have been a high priority for the Innis family for many decades.
Nigers' dad Reverend Roy Innis..
was the founder of the Congress on Racial Equality, who marched alongside Dr. Martin Luther King, and was a lifelong supporter of the Second Amendment through the NRA.
Niger is a political consultant and has also been a political and social commentator for MSNBC and National Public Radio (NPR)
He is a frequent guest on CNN, Fox News, BBC, CBC, ABC News, CBS News and Al Jazeera News.
Team Gorman wants to THANK Mr Innis for his respected support and endorsement.
California Republican Party
Monterey County Republican Party
San Luis Obispo County Republican Party
Santa Cruz County Republicans
California Narcotic Officers' Association
California ProLife Council
Vietnamese-American Republican-Council Of California
California Congress of Republicans
Paid for By Jeff Gorman for Congress FEC# C00722363